Not a FEMA Fan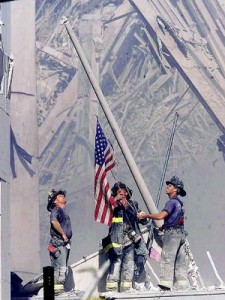 As we all know, there was tremendous suffering during that horrible day of September 11, 2001. In this context, my story is insignificant, but as a result of that attack, my Very Best Job turned into My Very Worst Job. In a previous life, I worked for a federal agency that responded to national disasters. And no, this was not FEMA. In fact, we hated FEMA. I loved where I worked and I loved the people. I actually consider them my friends. My pay grade was relatively low and at the time there wasn't any room to move up, but I was so happy in other aspects that it compensated for it. I remember that morning very well. The weather was gorgeous and I was looking forward to a fun weekend. And then I was summoned down to our emergency operation center. And when the gravity of the situation hit, it hit like a ton of bricks. I never worked so hard or got so stressed in my life. I had first-responders literally screaming at me on the phone and all around me there were monitors that showed the buildings burning. And when the first tower went down, I turned away, but right there was another monitor.
They finally told me to go home after 16 hours. One of my co-workers, a grizzled old fireman, told me to follow him. In the darkness of his office, he reached into a locked cabinet and gave me a first-responder shirt, which is worn by real heroes. He lost a lot of brothers that day, so this was a tremendous honor and I will always keep that shirt. For the next couple weeks I worked 12 hour shifts, since our center was obviously running 24 hours. Even after that, there was a lot of work to do. But these people were my friends, and we all supported each other, so it was an honor to be a part of it. And then FEMA happened. You see, in the examinations after 9/11, we were considered "redundant" to FEMA, so someone had the bright idea to consolidate us. Since FEMA was substantially larger than us ("larger" as in "bloated"), they won out on the merger.  And what does an evil conqueror do to their victims? You first kill all the leaders among them and separate the remaining people from their family and friends. And that is what they did. They took my supervisor away from me and put me under one of their trolls (an incredibly vile woman).
With federal employment there is what is known as an "FTE" (Full-Time Equivalent). This is a "job slot." An employee is the body that fills that slot. Even if an employee is gone, the slot is still there to be filled by family and cronies. So even though FEMA didn't want me, they wanted my FTE, so it became clear that they were going to force me out. So many things were horrible, but I'll give you an example: right before Christmas, the troll summoned her slaves for a meeting, and made the sudden announcement that she was canceling all holiday leave requests. One man was almost in tears, because he was supposed to fly across the country to bring presents to his family. The troll replied that the airline "may" refund his ticket if he called them immediately. Merry Christmas. It took me two months to get out. I found a job that gave me a huge promotion and an excellent career ladder. And I got out right before our annual conference, so FEMA got their precious FTE, but not a body to work during this extremely busy time. So I couldn't have given them any bigger payback than that.
A few years later, there was Katrina. FEMA took a tremendous beating from an enraged public. And I loved every second of it.