Power Dressing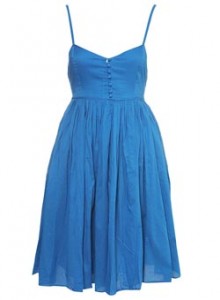 My Very Worst Job was at a copier company when I was 20. My boyfriend and I were a bit poor back then, so I didn't have much in the way of proper business attire. As such, I showed up for the interview in a sundress. The two brothers who owned the place barely asked me anything and then hired me on the spot.
I was the office manager, answering phones, taking complaints from customers (of which there were several) and trying to appease them, typing, filing, interacting with the techs and doing their accounts payable and receivable. I was also forced to call the customers and harass them when their payments were late.
The accounts almost never balanced. And we're not talking a few dollars here and there; they would be missing thousands at a time. Thinking I might be making a mistake at first, I would check and double check my work, but the results were always the same. Luckily I had no actual access to the money itself so no one could blame me, but I was still afraid of the wrath of the younger brother (who we'll get to in a bit).
Much of the time, I was left completely alone. The techs would be out in the field, and the two brothers were out doing god knows what. They were rather lazy and didn't seem to understand how to run a business. When the older of the two did come in (which was more often than the younger) he would tell me stories about stealing his wife's credit card and racking up charges on it at brothels in Vegas where he would sleep with other women. When I expressed my disgust, he acted like he couldn't understand what was wrong with that. Once he brought in a porn CD and sat there watching it right in front of me on my own computer. At one point he asked me why I never wore sundresses to the office anymore and admitted it was the reason they hired me.
The younger brother was even worse. He was a total pig regarding women as well, and an a-hole besides. He made it clear that I wasn't allowed to do anything at all in the office besides my exact work (not even Solitaire or something to pass the time), despite the fact that on most days I would finish my job duties in an hour or two and have no one to even talk to. Whenever his fiancé would call, he would yell all sorts of rude things at her and cuss her out and tell her to stop bothering him. When he hung up, he would call her names and make fun of her.
Despite the fact that he was almost never in the office, when he DID make it in, he would strut around like he was God's gift to the world and try his best to be intimidating. He liked to stand right behind me and stare over my shoulder as I worked (and criticize and nitpick whenever he could). He would get into rages and yell all the time and put me down. He also made a way bigger deal about the accounts receivable discrepancy than his brother. All while sniffing continually as if he had a perpetually runny nose.
Things got so bad that I would cry every morning when I woke up, just knowing that I had to go back to that place. There was a huge turnover because the techs would get fed up and leave. The younger brother took a liking to one tech, S, who started later than many of the others. S got tons of special treatment, and instead of working, he spent most of his time hanging out with the younger brother doing god knows what away from the office. Eventually, S came in one day when no one else was around and told me what was really going on. It turned out he actually couldn't stand the younger brother who had been stealing tons of money from the company to support his cocaine habit. That explained the missing money and the constant sniffling.
Right after that, I searched extra hard and found a great job to go to. I gave them only one week's notice, and they were lucky to have gotten that.