Fired Up!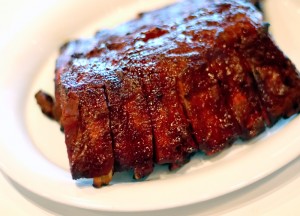 MVWJ was right before my current job, which happens to be My Very Best Job. I worked my way up in a barbecue chain restaurant. I started out as a cashier, then a server and was eventually a cook/meat slicer. I loved this job at the beginning. My boyfriend had recently lost his job and since we had two kids to support I threw myself in, working 50 to 60 hour weeks, usually double shifts. In the morning I would serve and then change clothes and be in the kitchen at night. The owner was a family guy, the managers were all younger and pretty cool. Like I said, I loved it. That was before they asked me to become a manager. I was so excited they had asked. I'm the type of person that does my absolute best and was just happy that someone had noticed how far I would go to be a team player. Picking up shifts if we were short, sometimes managing to do two jobs at one time, being the first girl to learn how to run the slicer and being amazingly fast in the hot, smoke-filled kitchen! I started working more and more. Once you become manager you are on salary so I was working 60 to 70 hours a week and barely ever saw my kids. I was committed to this job!
The boss's son was a big party kid. He had just came home from college and was thrown into being general manager of the store. He would often come to work drunk and or late. One time he even came in and slept on the desk in the office because he was so hung over. He would be late opening the store, hired all his drinking buddies to work there and he stayed in the office his ENTIRE shift. I mean he would literally sit in there and watch the security cameras and call us up front to complain or ask one of the other managers to do something for him. The front end manager was a complete nightmare. She couldn't write up a server schedule to save her life and we always had to find people to cover shifts because she would give everyone off if they requested it because she couldn't tell these young college kids no! They all learned that pretty quickly and would suck up to her constantly for better shifts. But, I still loved it. I thought I was doing a really good job, I was always tired, called in on my days off constantly, always worked longer than scheduled, was actually scheduled as a cook most nights to conserve labor costs. I thought I was an appreciated member of the team and loved working hard for the owner.
In the end he fired me for coming into work on time and sick. I didn't call in at 8am and leave everyone in a bind. He fired me because I spent too much time in the office on this one shift because I felt so sick. Two years of working like man for him, forgoing my family and my kids. I was in shock and wasn't able to articulate anything when he called me into the office and fired me in front of all the other managers! I just stood there with my mouth open. I still want to find him and hurt him. Fucking ungrateful jackass.