Chemical Reaction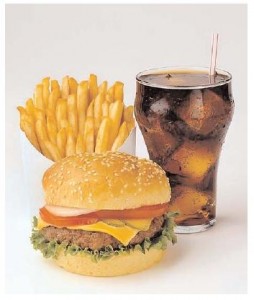 I just quit my MVWJ. Admittedly, fast food workers have a stigma of being underpaid and overworked, but this job pushed its staff to their limits.
I used to work for a not-so-popular fast food chain in Australia. In the year that I was there, I would regularly work 9 or 10 hr shifts with no break, seeing as they "couldn't afford" to give me one. The managers were constantly trying to save on labour, leaving only the barest minimum of staff. Unless it was a Saturday, I often found myself the only person running front counter and drive thru so that meant taking orders, cashing it, bagging the food, making the drinks and serving it — all by myself. Even if there were 10 customers all waiting to be served. And every single order, no matter how big the order was or how long the food took to cook, had to be done under a minute and 30 seconds. If it wasn't I was screamed at for not being fast enough and called names like "f-ing moron" in front of customers, even if they were kids. We had customers complain to the managers about treating their staff so badly, but all the manager would do is bitch about that customer as soon as they left the store and ignore them. There was a huge turnover of staff — the three managers had all been replaced about four times each in six months and so were all very young and inexperienced.
My first paycheck was only about $15, despite doing 20 something hours. They took $80 out for our uniform, which was just a plain pair of black pants and a red button up shirt, nothing special. We weren't given payslips so on more than one occasion I found I hadn't been paid for certain shifts shifts in order to avoid paying me overtime. When our rostered shift was over, we weren't allowed to leave until the manager had given us a list of things to complete. We couldn't ask for this list 10 minutes or so before our shift was over, we were only allowed to ask for it after our shift was complete. After we had completed this list, which usually took about 20 minutes to do so, then and only then could we ask permission to leave. We weren't paid for this overtime either.
I soon discovered the industrial chemicals they used to clean and sanitize everything burned my skin fairly badly. I had huge red patches where it had splashed onto my skin all along my arms and the skin started cracking and flaking off on my fingers after using them. When I was told to keep using them, I begged them to let me not as it hurt so much and showed them my hands. Their response? "There's some concrete out the back. Take some and harden the fuck up, princess" and told me I'd be written up if I didn't keep using the chemicals. Unlike most fast food jobs, there was no discounts or anything for working there. We weren't allowed any percentage off the food or even a free drink. And since the store was located on a rather isolated highway, there wasn't much options for food. We were also underpaid by about $5 below the legal minimum wage limit.
Best of all, when I finally had enough and found myself a new job, the manager threatened to badmouth me as a reference and not pay me the annual leave/sick leave I had saved up if I quit. I found out later from people who still worked there that she was telling them to badmouth me to my new colleagues in an effort to blackmail me into staying, since they didn't want me to quit. I've been told be many people to sue them since apparently a lot of things they have done are illegal, but I'm not going to. I'm just happy to be out of there.