Corporate Cashing Out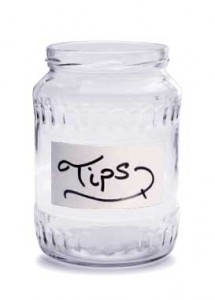 Before I begin, I am fully aware that most service industry jobs are not the greatest, but this experience was pretty bad. I've worked in the service industry for a while so that's why I totally disagree with people who tell me that my experience is something I should expect in this industry.
I had been working sales for about a year, which I enjoyed, but my hours were cut and had bills to pay. I decided to go back into the service industry because you usually make money right then and there. I got hired on at a fairly popular sports restaurant and since a friend of mine had worked there 2 years before, I expected it to not be that bad. From day one, I had a feeling I would not be very happy because it took about two hours to get out of there after being cut. Honestly, after they tell you that you can go you had about two hours of side duties to finish–and one of the side duties was cleaning the bathrooms. Two hours of being paid $2.13 an hour did not really mesh well with me. (Corporate took shortcuts, so the servers were the ones doing all the extra work) If the washer left we had to wash the dishes. I really did not like that dirty water would spray in my face and all over me and I still had to serve food. If that wasn't bad enough, the girls I worked with were extremely catty and rude. Since I was the new girl, they refused to help me out, and I was always stuck doing whatever side work they didn't do. That's how this place worked.
I should add that the customers weren't really that bad. I had very few issues with them, except the occasional big group of people who think they are the only people there. There was one funny moment while I was cleaning the bathroom, though. There were two girls in the restroom and they were both practicing to sing "Happy Birthday" to their friend. Yes, PRACTICING to sing "Happy Birthday". They were in there for about 45 minutes singing over and over. Like one girl had to go a certain pitch and the other had to get this other pitch juuuust right. Not sure if they expected to be "discovered" at this place or what.
Anyways, my first week there I was stuck working from 10AM-10PM. Some co-worker disappeared for 30 minutes and came back loaded on some pain killers. She was stumbling all over the place and slurring. She tried to steal someone's jacket and when the manager told her to show him what she had in her arms, she presented a picture frame, a new toilet bowl brush, to-go boxes, white out, and a bunch of change. She had even gone through our purses. To make matters worse, she destroyed the zipper on my expensive purse. The managers never apologized to me about this or gave me the girl's information so I could get her to replace the zipper. After all of this, another girl and I were stuck doing that girl's side duties because it "had to be done".
I tried to suck this up and continued to work there for three more weeks. The last day I was there, no one informed me that we were out of several things (and no, it was not written on the 86 board or in the computer) and I was not informed that several girls left to go home so I was stuck doing the whole dining room side- usually they tell you when someone leaves, but not that day. For some reason, I was also stuck doing two side duties and I was there until 3AM even though I was not a closer. When I looked at the schedule, they had me working eight days straight. I quit the very next day, with the encouragement of my fiance.
I should add that when I got my last two paychecks, they were both only $100–that's for two weeks of work and supposed to include credit card tips. Apparently, this place takes out whatever you make in cash from your credit card tips. At least now I am working at a fine dining cocktail bar that is freaking awesome. No more corporate restaurants for me.