Mr. Not So Clean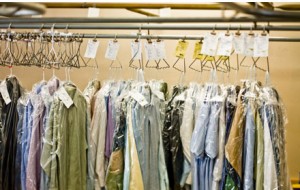 MVWJ is my current job, working for a dry cleaners, which is a supposed promotion from my last job at another location. When I first started I soon realized how much work this place was going to be (and the employees were not much better). The managers asked me to point out what was wrong with the store so they could improve since the store was in danger of closing. Apparently this didn't sit well with D who has been here since the store opened, close to 20 years, and she did everything in her power to blame me for her mistakes and if I did make any D made sure everyone knew. Keep in mind I am less than half her age. Also the other employees feed on drama and love to pick on the new girl. I put up with everything and settled on ignoring everyone around me, eventually she stopped acting like a 15 year-old and got over her grudge. Then her son, who also worked there, began acting like a fool.
He hits on every girl who walks into the store and actually believes they like him (I'm sure they only responded to get a discount). He's disrespectful to everyone and talks about sex in front of customers and even told some of the older women he had something "special" for him in his pants (I'm keeping it clean). Aside from obnoxious comments, he always arrives late and everyone suspects him of stealing. I brought up his getting fired to my managers and one was completely against it. Later I found out she (who is married and "in love") was having an affair with this illegitimate want-to-be-gangster/father of two, who didn't even own a car! And who was also sleeping with one of the pressers who is also married. This just outright disgusted me but, I ignored it since it's not my business, that is until this disgusting fool was trying to hit on me! Obviously I said no. He in return told that same bimbo manager that I did nothing, even though I worked the most, he always complained and always talked bad to me and about me.
I had enough when he started talking bad about Hispanics and called himself Spanish (even though he's obviously black mixed with white). I'm Mexican and if anyone knows anything about history they know that the Spaniards colonized Mexico and on top of that my grandparents are direct Spaniards, even my last name is Spanish. So when I told him that if he went back to school and earned and education maybe he would have some right to speak about others and if he didn't like Mexicans maybe he should get out of Texas. Usually I wouldn't say anything like that to anyone, but insulting me is one thing that I can ignore, but insulting a race whether is mine or not really gets under my skin. Call me politically correct. I never thought I could work at such a horrible place, but you have to take what you get while you're a college student.