Pub Pair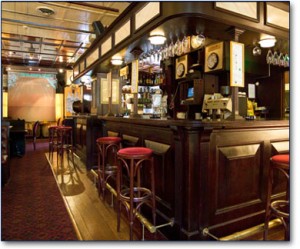 My final foray into the world of service was by far the worst. The landlady was a useless, lazy spineless idiot with a similarly useless, lazy spineless lump of a husband (who did not have a job at all, even in the pub). The landlady did no work whatsoever, preferring to hide upstairs despite not scheduling enough staff on because she would "cover it." We would quite often end up with a bar queue three people deep, the kitchen bell going constantly with food and not a clean glass in sight, while she would be upstairs having her hair dyed. The husband was a really odd guy who never wore shoes even at the rare times he managed to lift a finger behind the bar. He constantly went around in increasingly battered and filthy novelty Homer Simpson slippers and I never saw him wear anything else.
She did absolutely none of the usual back of house things that managers usually do — deliveries, cashing up etc. She had us doing all of it. The only thing she actually controlled was the stock ordering and auditing and would never allow anyone else to be involved in at all. It became clear why she was so militant about that shortly before I quit. She really loved being able to say "on the house" to people and was giving freebies out left, right and centre. Every drop of alcohol that her and the husband drank came from behind the bar and every meal they had came out of the kitchen — breakfast, lunch and dinner. Which, for two people and a young child over a prolonged period of time, racks up to quite a hefty amount of lost stock that hasn't been paid for.
The brewery who owned the place started to get suspicious. The more pressure put on her by the brewery meant the more pressure she put on us. She used to sit us all down (with her husband, who was not a manager or even a member of staff) and accuse us all of stealing because they were a few bottles of spirits down, or a few pints etc. Every one of these occurrences would end with her saying the missing stock was going to have to be paid for out of the tips. It eventually came out that they were around £12,000 down in stock in total, occurring over about a year, which was why they were so manic when it came to the stock orders and audits. They were trying to cover their own tracks. Trust me when I say, there wasn't a single staff member there who was stealing a thing. It was all them. A few months after I left the brewery finally saw sense and sacked them. That pair well and truly ran that place into the ground.