From the Freezer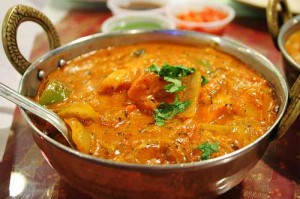 When a friend posted on Facebook that his restaurant desperately needed a server and he had been given permission to hire a friend, I jumped on the opportunity. Now, I should clarify that I am using the word "restaurant" very loosely. The best description I can give for the place I worked is that we served Indian fast food. A chef in another city would make giant batches of basic Indian dishes, freeze them into small and large portion containers and we would store them in a big freezer in the basement. We would bring up a few of each at a time, allow them to defrost in the fridge and then microwave them as they were ordered, adding the appropriate vegetables and spice powder as requested by our customers. Our "kitchen" consisted of six microwaves, a grill for the "naan" (another loose term; think flat, wide hot dog buns), a rice cooker and a deep fryer for samosas and onion bhaji (the only thing we made ourselves). As you can imagine, we had very few repeat customers, except for the potheads who lived behind the restaurant and would wander in at closing and order "whatever that smell is, and five of them!"
Meanwhile, our dining room was decorated nicely, but lit like a McDonald's, and the manager would often quietly play rap over the sound system. On top of all this, the owner, "D", set prices that were nearly as high as the authentic, delicious, properly decorated and sufficiently staffed Indian restaurants in the area, and all of these things put together made for a restaurant that was almost always empty. Because of the low customer numbers, a number of things happened at the restaurant that made working there very difficult. For one thing, I worked almost every single shift alone. I would serve tables, "cook" the food, clean the kitchen and dining room and prepare delivery and takeout orders. Every so often, this would mean absolute, hair-tearing chaos for me, when all of a sudden there would be three tables seated, another customer wanting takeout and a delivery man coming in 10 minutes.
However, there were also many times when I would have nothing to do. As I was in university, I was okay with this – I would sit behind the till and do course readings. I always made sure that the book was hidden from sight, so that passersby wouldn't know that's what I was doing, but after a few shifts of doing this, I discovered that D would have his friends walk by the restaurant at random and report back to him what we were doing. He made a new rule that we were not allowed to read during our shifts and should be constantly finding work to do. When I showed him that there was actually nothing to do, that every aspect of the restaurant was spotless, he told me to clean things over and over so that I was always working, because he was not paying me to read.
All of this, so far, I could live with. He's the owner and he was worried about money and the job was usually not that hard, so I was okay. Then, within the space of a few weeks, it became unbearable. First, a new manager was hired. He called a staff meeting and told us that since we worked by ourselves and couldn't take breaks, we should be allowed to make food for ourselves for free. Within a week, D had threatened to put in security cameras and accused us all of stealing and when we confronted the manager, he said that he didn't say we should tell the owner about our "free" (stolen) food! Next, I got a call from a girl who had ordered delivery and had found a cooked bee in her curry. I got in trouble for telling her to come in to the store and get a refund. Third (remember how the food was kept in a freezer in the basement?), I forgot to mention that to get to the basement, you had to exit the back of the restaurant, go down a flight of unlit, broken concrete stairs and go into a back room of someone's apartment to get to that freezer. As the weather turned, the stairs became treacherous, and despite numerous requests for the stairs to be repaired or at least salted, nothing was ever done. Finally, and this was absolutely the last straw, two of my co-workers' paycheques bounced.
I still remember the letter I wrote to D when I quit. "Due to a combination of incompetent management, safety concerns, unfair employee treatment and pay discrepancies, I will no longer be able to continue working in this establishment. Thank you for the opportunity." The restaurant went out of business two months later.