The Vege Mafia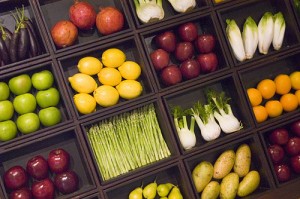 Talk about a Jekyll and Hyde situation. About a year ago I interviewed for a job at a vegetarian cafe on the theatre side of town. I'm an actress and this seemed like a good sign. Let me add that my job was to work the counter and take orders, and either E or R were acting as managers, baristas, and servers. This was the justification for not sharing tips with me (but we'll get to that.)
Both of my bosses were actors as well, we'll call them R and E. R was the best boss ever. She was laid back, funny, and genuinely seemed proud of her restaurant and loved her customers. E was a whole other story. The first day she seemed a little cool, but I chalked it up to personality. Then her true crazy shone through. She told me on the first day that I should feel free to bring a book, "since it can get a little slow here sometimes." Then a week in, when the place is dead, she furiously snapped at me, "I know it's quiet, but there's always little things do to. I don't want you just sitting there reading!"
One day I'd be in trouble for leaving the register to make drinks, the next day I'd be in trouble for not pitching in to help out (because she was too busy surfing Facebook or taking naps in her office) and I mean IN TROUBLE. She would scream at me in front of customers. And on the days where she was "working" in the office and I handled everything for hours at a time, do you think she shared tips? Nope. Also, I would catch her glaring at me out of the corner of my eye, like I had my hand in the register or my finger up my nose. I have no idea why she mistrusted me completely.
One day when an obviously difficult customer complained about an order that we "messed up" and I know for a fact I triple-checked, E hauled me into the kitchen to chew me out (which is rare, since she usually tore into me in front of the uncomfortable customers!) I told her that I was entirely in the right and E said,  "Well, you're not focused and I need you to pull it together. You went to acting school, right? Why don't you do one of those focusing exercises they taught you, okay?" In the most condescending tone I've ever heard.
Sadly that wasn't the final straw. The final straw was arriving to work to find the other cashier in tears. Apparently E had been taking a nap. This cashier had previously been in trouble for waking E up instead of taking a message. So today she had taken a message instead. When E woke up and found out she'd missed a call from a guy she'd been "waiting to hear from all day!" she screamed at this poor girl that she could "easily be replaced!"
I decided to quit before I could be replaced, and never looked back!